Coming down from the trek was bittersweet. On one hand, we were looking forward to being back in 'civilization'…aka, proper coffee, hot showers and food other than noodles and lentils. On the other hand, we were sad to say goodbye to the fresh air, peacefulness and serenity of the Himalayas, something only nature and rural areas can provide.
We finished off our trek in the town of Jomsom. Some travellers choose to continue for another week on roads which, due to blasting and construction, are now filled with buses and jeeps. We opted for the daring bus ride down the mountain, which took 13 hours teetering on some of the sheerest cliffsides we've ever seen.
Our bus trying to pass another bus on the very narrow, very steep cliffs. Coming from Johmson to Pokhara, Nepal . Bus ride to Pokhara from Jomsom, Nepal
We managed to make it to Pokhara in one piece with our new friends from the trek: Suzie and Jordan (Canada) and Matt and Clare (England). We were also going to reunite with Toni and Bernie. We all stayed at the same guesthouse, Lotus Guesthouse, and therefore we were always meeting up on the balcony, garden or each others rooms to have some drinks and chats. The 8 of us had one "big" night out…and and by "big", I mean, we were home by 11:30. The Government has issued a law that all bars and restaurants must be closed by 11:00pm. Even so, we had a great night out playing pool, foosball, smoking sheesha pipe, drinking cocktails and listening to a Nepali cover band playing Western songs!
the girls enjoying a sheesha pipe in Pokhara, Nepal
We ended up staying in Pokhara for two weeks. We enjoyed the small city, relaxing by the lake, hanging out with our friends, eating delicious food and having our morning Americano coffee. Other than going for a few walks, renting a canoe one day and having a picnic on the shores of Phew Tal (the lake), we just had lots of down time.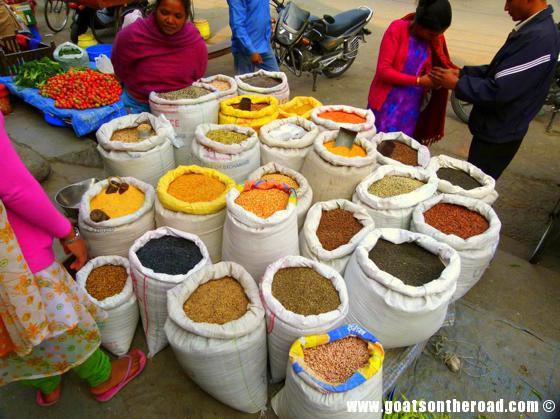 colourful spices, Pokhara, Nepal
a day by Pokhara Lake, Nepal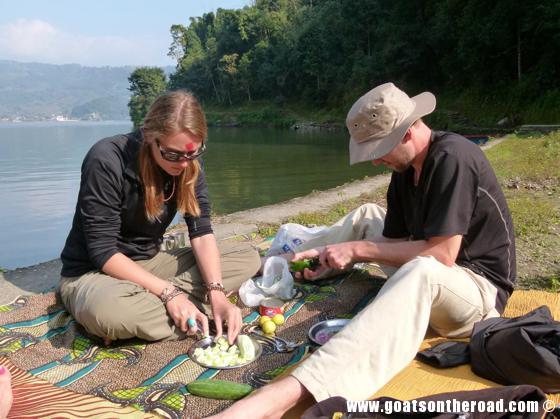 Goats On The Road having a picnic by Pokhara Lake, Nepal
enjoying a day in the canoe, Pokhara, Nepal
Register to remove ADS
Nick going into the temple on Pokhara Lake, Nepal
workers down by the river, Pokhara, Nepal
a friendly Praying Mantis, Pokhara Lake, Nepal…a new symbol for Canada?!
We were definitely getting antsy and ready to leave by the two week mark in this ultra relaxed city. We made our way back to Kathmandu and spent a few days there enjoying some of the sights that we didn't see the first time around. Walking the old, busy streets is entertainment in itself and even just having a coffee/tea and people watching is a great way to spend a day.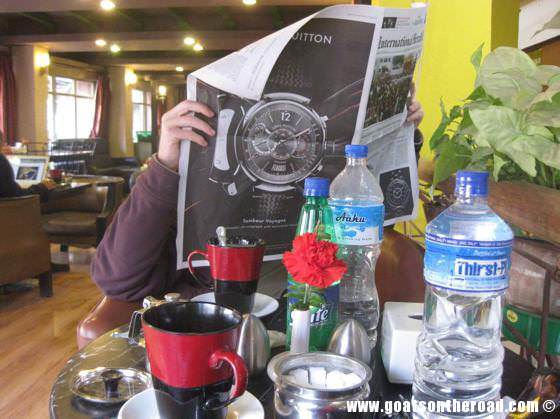 Nick at the coffee shop in Kathmandu, Nepal
One day we did manage to break away from the coffee shop and went to see Durbar Square, the place where Kathmandu's Kings once ruled from. We spent hours sitting high up on temples built in the 17th century and enjoying the sights and sounds down below us. This area was a perfect example of traditional Nepali architecture and we enjoyed strolling around and taking it all in.
The streets around Durbar Square, Kathmandu, Nepal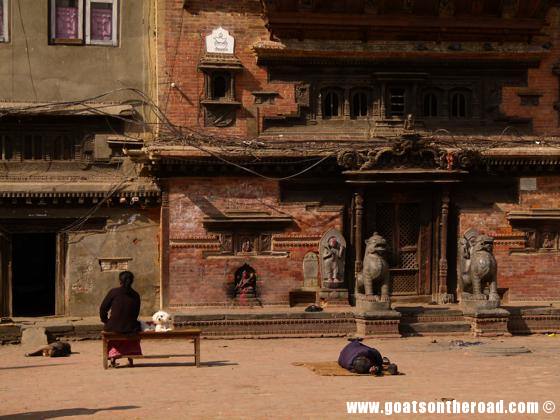 Streets around Durbar Square, Kathmandu, Nepal
pigeons at Durbar Square, Kathmandu, Nepal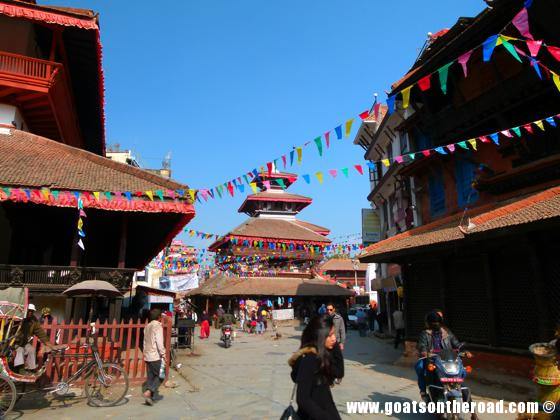 Durbar Square, Kathmandu Nepal
After 5 very memorable weeks in Nepal, it was time to pack up and say goodbye. The people of this country were some of the friendliest (if not the friendliest) we've come across in our travels. Every person we interacted with was kind, peaceful and gentle; and in my experience, that is something very special and rare. We enjoyed everything about Nepal, but in particular we will never forget the breathtaking Himalaya Mountains and our experience trekking through the highest peaks in the world. It will remain as one of the best memories of our lives. Dhanyabad Nepal.
Register to remove ADS